03-04-2016, 07:30 PM
Suzuki Worldwide Automotive EPC5
[02.2014]
Spare part catalog for Suzuki vehicle2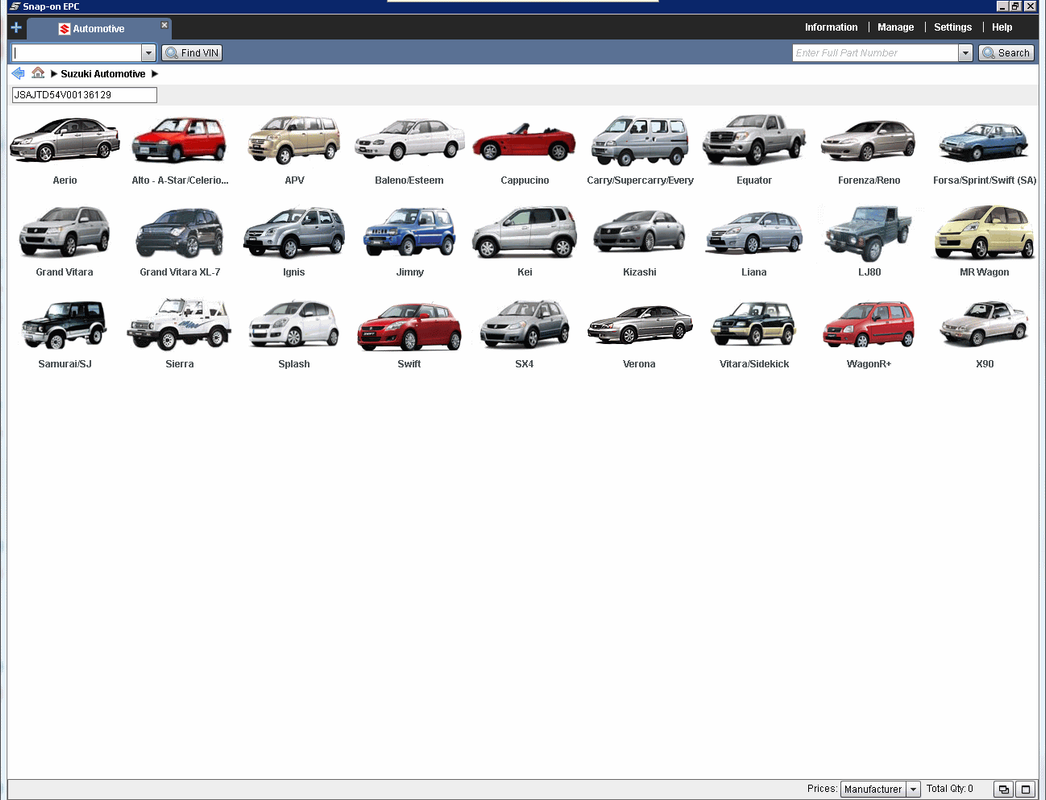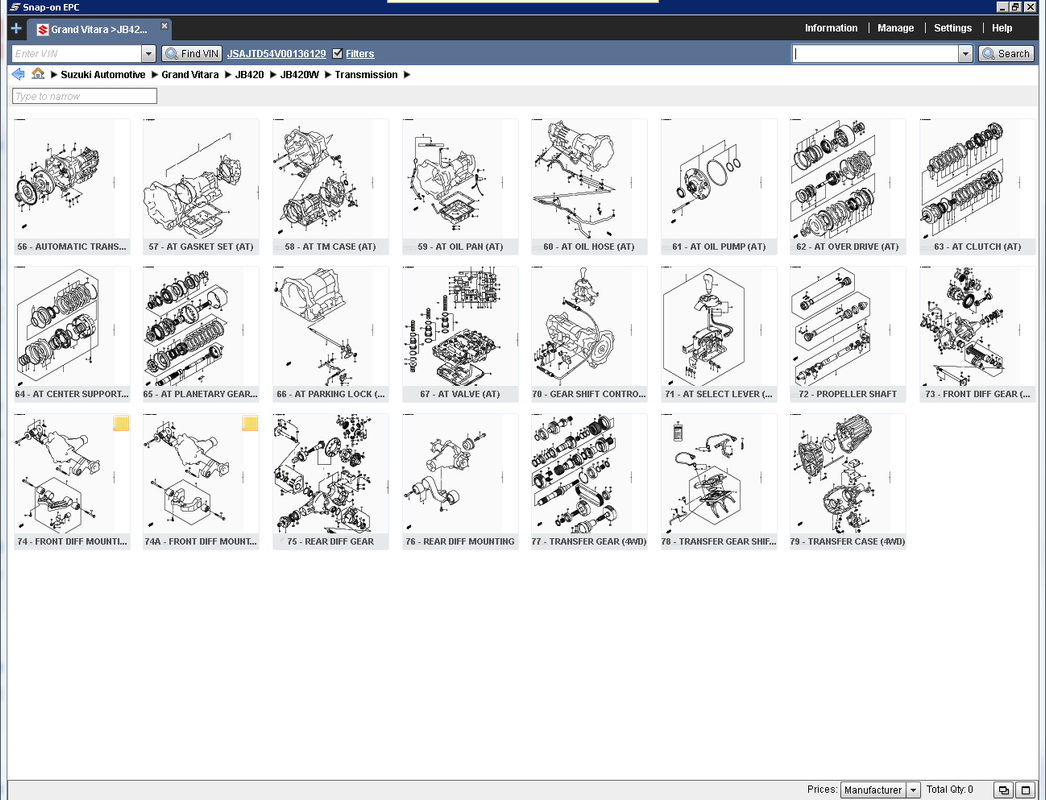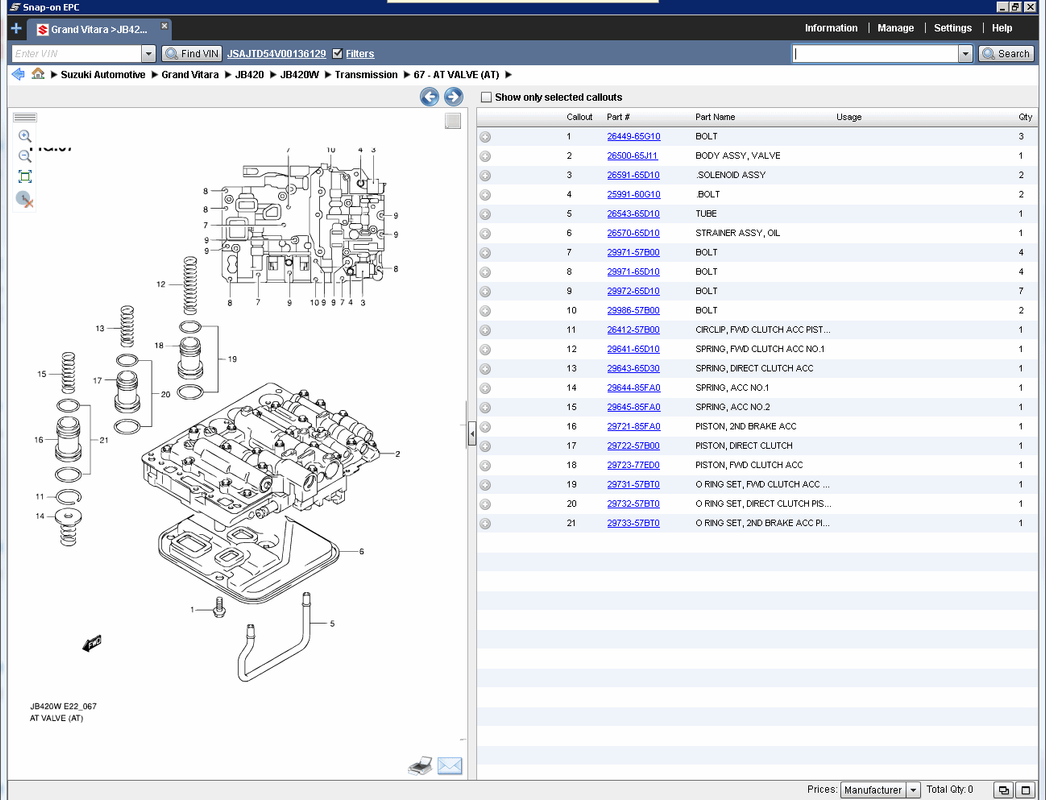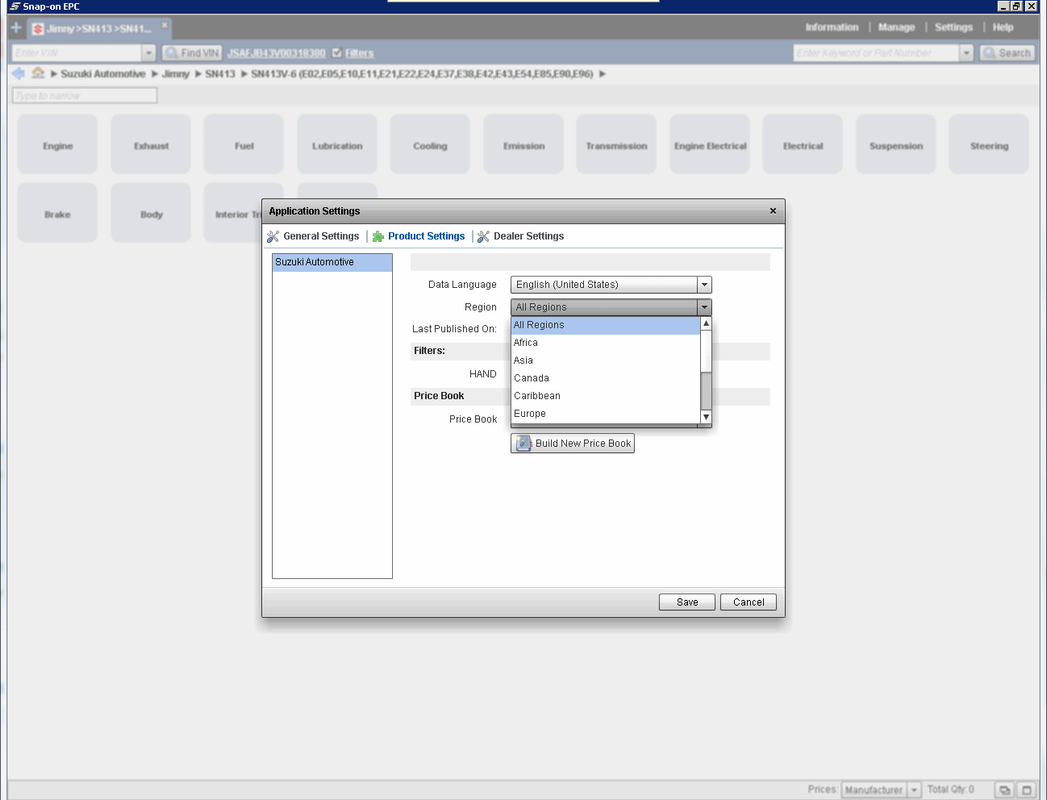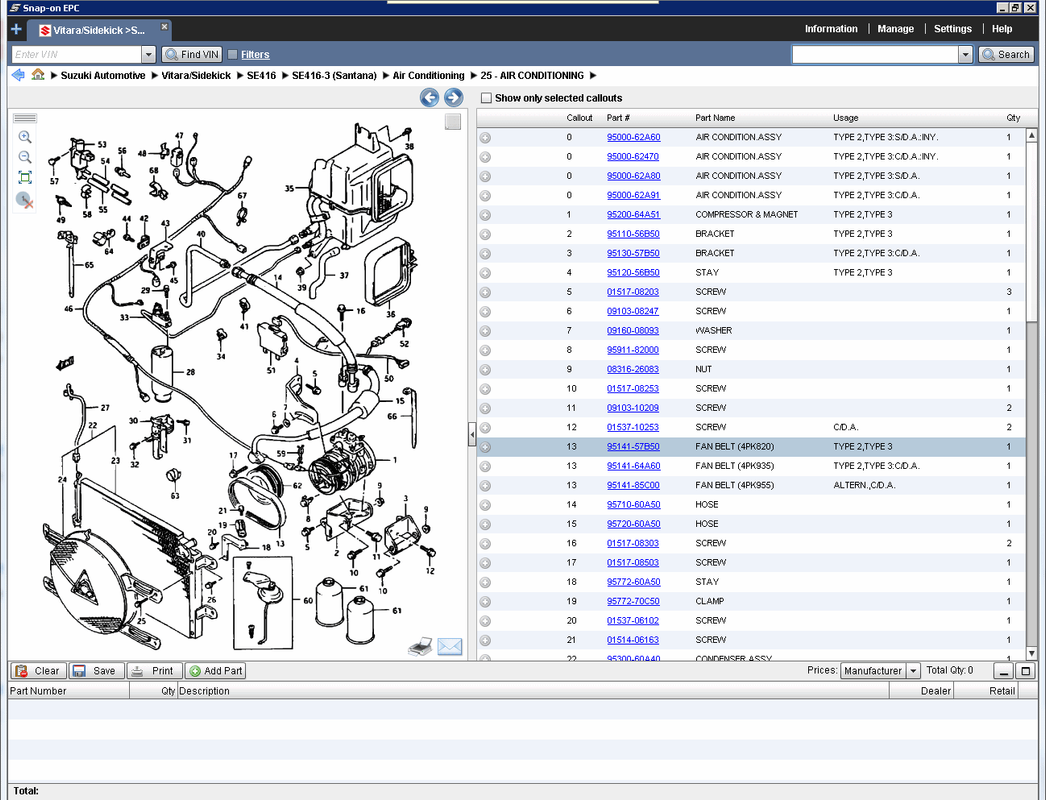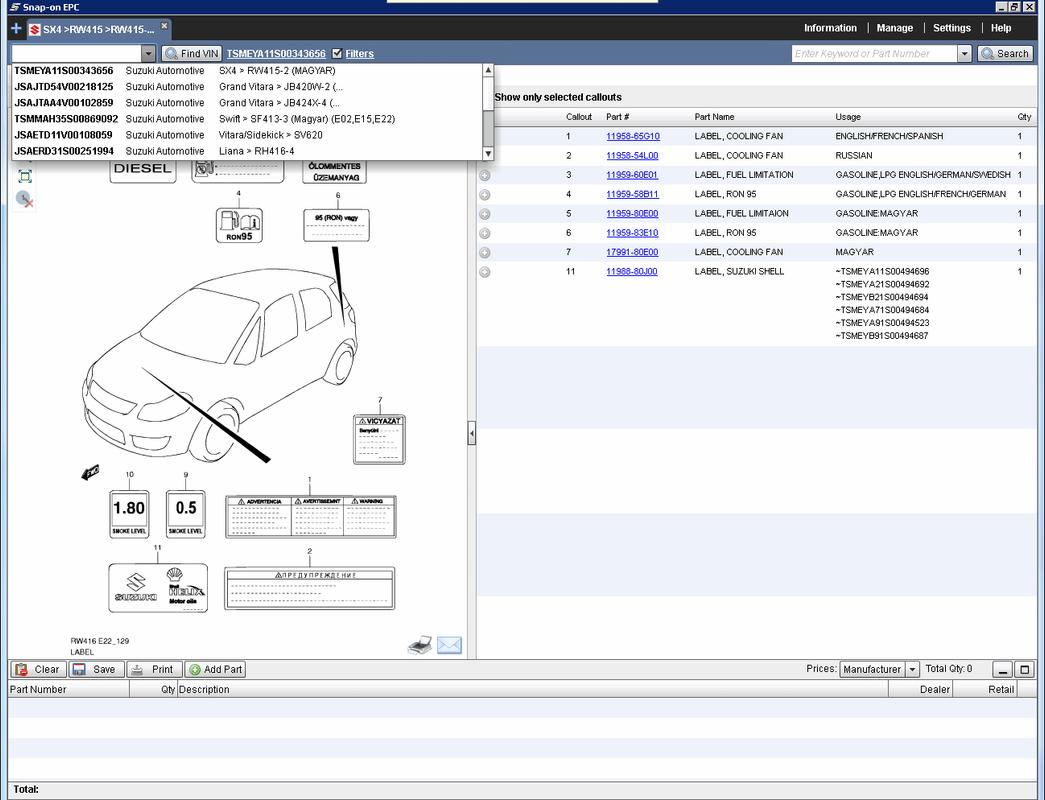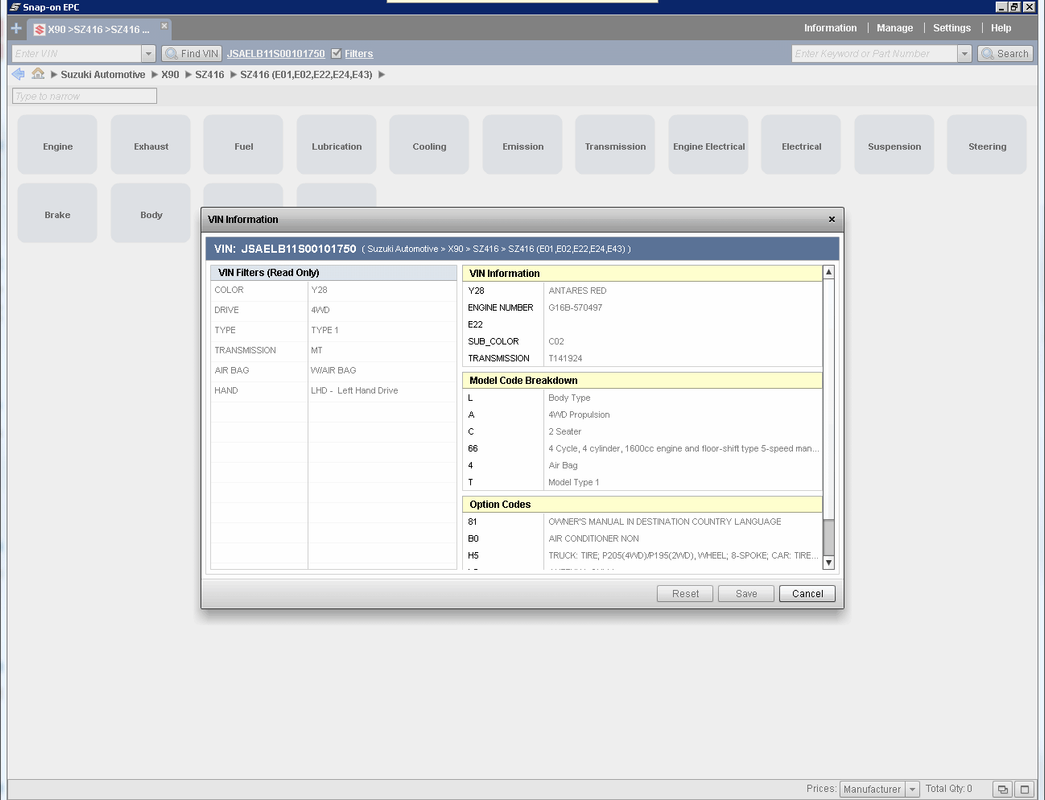 Region: ALL regions
Languages: English (Multilanguage)
OS: WinXP, Vista, Windows7,WIN8
Quantity of CD: 2 DVD 
Year: 2014
Date of update: 02/2014
Suzuki Worldwide Automotive EPC Spare Parts Identification:
1980-current (based on model & plant). 
1990-current VIN data for CAMI, Japan and Magyar plants. VIN data for Argentina, Maruti and Santana plants. Africa, Asia, Canada, Caribbean, Europe, General, Latin America, Middle East, Pacific, Russia, United States
Suzuki Worldwide Automotive EPC Benefits:
Fast, error-free part lookups by part name, part number, Suzuki VIN or chassis number. 
Part history helps you order the most current parts and reduce your obsolete Suzuki parts inventory. 
Integration of Suzuki parts lists with your in-house inventory system saves time and reduces errors. 
Suzuki Worldwide Automotive EPC Features:
VIN decoding and filtering displays vehicle-specific parts information. 
VIN log maintains list of previously selected vehicles and eliminates re-keying Suzuki VINs.
Year, model, group and illustration indexes. 
Bi-monthly updates to Suzuki information. 
Instant access to your in-house inventory system. 
Shortcuts save time for experienced users. 
Capacity to customize parts data by adding your own notes. 
Online help screens minimize new user training time. 
Print high-quality text and Suzuki parts illustrations.
AFRICA
800
APV
Alto
Alto/A-Star/Celerio
Carry/Super Carry
Forsa
Fronte
Grand Vitara
Grand Vitara XL-7
Ignis
Jimny
LJ80
Liana
SX4
Samurai
Samurai/SJ
Switft
Vitara

ASIA
800
APV
Alto
Alto/A-Star/Celerio
Baleno/Esteem
Cappucino
Carry/Super Carry
Cultus
Escudo
Every
Forsa
Fronte
Grand Vitara
Grand Vitara XL-7
Ignis
Jimny
Kei
LJ80
Liana
MR Wagon
SX4
Samurai
Samurai/SJ
Sprint
Switft
Vitara
WagonR+

CANADA
Aerio
Esteem
Forsa
Grand Vitara
Grand Vitara XL-7
LJ80
SX4
Samurai
Sidekick
Sidekick Sport
Sierra
Swift
Verona
Vitara
X90

Caribbean
Aerio
Carry/Super Carry
Escudo
Esteem
Forsa
Grand Vitara
Grand Vitara XL-7
LJ80
Liana
Samurai
Samurai/SJ
Sidekick
sidekick Sport
Sprint
Swift
Verona
Vitara

EUROPE
800
Alto
Alto/A-Star/Celerio
Baleno/Esteem
Cappucino
Carry/Super Carry
Every
Forsa
Fronte
Grand Vitara
Grand Vitara XL-7
Ignis
Jimny
LJ80
Liana
SX4
Samurai
Samurai/SJ
Splash
Sprint
Switft
Vitara
WagonR+
X90

GENERAL (ASIA)
800
APV
Alto
Baleno/Esteem
Cappucino
Carry/Super Carry
Escudo
Every
Forsa
Fronte
Grand Vitara
Grand Vitara XL-7
JimnyLJ80
Liana
Samurai
Samurai/SJ
Sprint
Switft
Vitara
WagonR+
X90

Latin America
800
APV
Aerio
Alto
Alto/A-Star/Celerio
Baleno/Esteem
Carry/Super Carry
Every
Forsa
Fronte
Grand Vitara
Grand Vitara XL-7
Ignis
Jimny
LJ80
Liana
SX4
Samurai
Samurai/SJ
Sprint
Switft
Vitara
WagonR+

Middle East
800
APV
Aerio
Alto
Alto/A-Star/Celerio
Baleno/Esteem
Carry/Super Carry
Every
Forsa
Fronte
Grand Vitara
Grand Vitara XL-7
Ignis
Jimny
LJ80
Liana
SX4
Samurai
Samurai/SJ
Sprint
Switft
Vitara
WagonR+
X90

Pacific
800
APV
Alto
Alto/A-Star/Celerio
Baleno/Esteem
Carry/Super Carry
Every
Forsa
Fronte
Grand Vitara
Grand Vitara XL-7
Ignis
Jimny
LJ80
Liana
SX4
Samurai
Samurai/SJ
Sierra
Sprint
Switft
Vitara
WagonR+
X90

RUSSIA
Carry/Super Carry
Forsa
Grand Vitara
SX4
Samurai
Samurai/SJ
Switft
Vitara

United States
Aerio
Equator
Esteem
Grand Vitara
Grand Vitara XL-7
Reno/ForenzaSX4
Samurai
Sidekick
Sidekick Sport
Switft
Verona
Vitara
X90