08-03-2016, 05:41 PM
Jeep Cherokee Service Manual [1984-1991]
Service manuals for Jeep Cherokee  .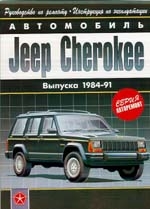 Languages: English 
Type: Service Manual
OS:Win ALL


Size: 48.2 MB


Year:  [1984-1991]
The book describes the model of the popular Jeep Cherokee with a turbodiesel (rare modification in Russia) and in-line six-cylinder engine of 4.0 liters.

 

Operations on the device, repair and maintenance of vehicle components and mechanisms considered in sufficient detail.

 

The presentation accessible, friendly and competent, that traditionally distinguished book publisher API.

 

Translated from the French.

 

The book will be useful to motorists and professionals.

.